By: Micahel M, Blogger, Yellowlite, Inc.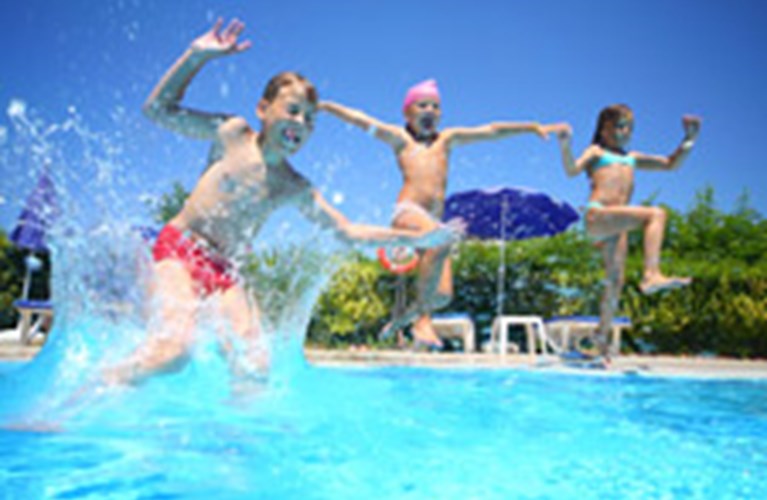 Let's face it. The swimming season in Ohio is pretty short, running from about May 1st through the end of September, and that's if you're willing to pay the extra costs in your utility bills to heat it up to a comfortable enough temperature to get into in early May and late September. Considering that the initial cost of installing a pool these days is about $30,000, and the fact that, unless you're Nanook of the North, you'll have to spend another $800 to $1,700 a year to keep your pool warm enough to swim in, it is of little wonder that there are relatively few privately owned swimming pools in Ohio. All that money and, if you're lucky, you get to use it for less than half the year. Would you buy a car and park it for half the year?
If you are indeed, one of the lucky ones who can afford to own and operate a pool, or if you've been considering having one installed but have hesitated due to the tremendous costs involved, there is good news. Yellowlite, Ohio's premier Solar company has partnered with Heliocol, the world's largest Solar Pool Heating System Manufacturer to bring you the best in Solar Pool Heating. Now you can heat your pool for free with clean, renewable solar energy.
Extend your swimming season, cost-effectively.
According to the U.S. Department of Energy heating a pool with solar energy is "one of the most cost-effective applications of solar energy." Many pool owners rationalize the money they spend on pools because they consider them to be extensions of their vacation season. Much like their vacations, they value their pools because swimming provides more fun, more exercise, more family time, and more relaxation. If you are one of the lucky ones, having Yellowlite install a Heliocol Solar Pool Heating System will get you started on your "vacation" sooner and keep it going longer. You and your family will be jumping into an 80 degree pool that has been warmed by the sun. You spent the money for the pool, why not use it more and pay less?
Sleek and simple
Heliocol Solar Collectors are sleek and simple, yet durable enough to last a lifetime. In fact, when installed by the highly-trained professional at Yellowlite, the Heliocol System will be virtually maintenance free as it captures abundant, reliable and free heat from the sun year after year. Heliocol backs up their promises with a 12 year full warranty and a lifetime limited warranty. A typical Heliocol Solar Pool Heating System will pay for itself in 3 to 7 years, depending on your current heating method and Heliocol expects their system to be in operation, efficiently, for at least 20 years. The warranties on the typical heat pump and gas heaters are 1 to 5 years with a life expectancy of 5 to 10 years, so you do the math.
Residential or Commercial
Solar pool heaters can be used not only for residential but for larger commercial and public pools as well. The Heliocol Solar Collectors can be mounted on the roof or anywhere near the pool that provides the proper exposure to the sun. One of additional benefits of installing them on the roof is that by blocking the sun from hitting the roof the collectors will reduce your home or commercial building's cooling load. A site visit is a critical step in the solar installation process because every home or commercial building has unique challenges and advantages that our highly-trained professionals at Yellowlite will evaluate so that we can determine the most suitable and cost-effective solution to maximize your satisfaction. Give us a call now at 216-333-1364 and we'll send one of our Yellowlite Solar Heating Experts out to meet with you, at your convenience. 
So if you plan on buying the best solar panels, cheap solar panels, the most efficient solar panels, even sunpower solar panels for your home solar system, know that solar panels cost less than ever. Solar panels in Ohio, solar panels Columbus Ohio, solar panels Cincinnati Ohio, even solar panels Ontario, even solar panels for your home, your solar panel roof is ready to be installed. Check out our solar panel calculator, even if you want to purchase cheap solar panels in Ohio. YellowLite solar a solar installation company in Ohio as a solar installer Ohio.Learn more about Solar Pool Heating in our YellowLite Minute Talk Video on YouTube.