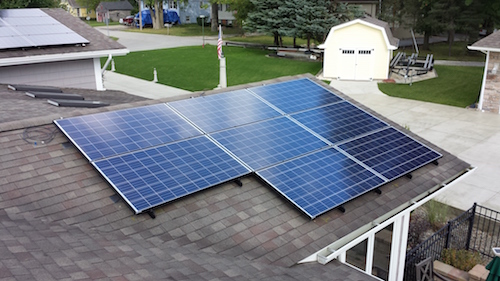 When you need to know where to buy solar panels for your home Cleveland Ohio has the solutions you're looking for.
Meet Yellow Lite.
Yellow Lite is committed to doing great work for the environment, while helping you decide which methods are best for reducing energy in your home or business. If you've never used solar panels before, here is some important information to help you get started with the process.
Understanding Options in Where to Buy Solar Panels for Your Home
Mounting Options for Solar Panels
Yellow Lite provides you with all the information you need to make an informed choice about your solar panels. For instance, it's helpful to know that there are four mounting styles to choose from. They are:
1.     Ground:
This method keeps your panels from being affected by the shade, even if your roof provides shade for your home or business. When you have your solar panels tilted in "ground" fashion, you'll be able to get the most of your solar energy.
2.     Awning
This type of solar paneling is very similar in structure to a carport. The solar panels are fashioned in a way that covers your porch or walkway.
3.     Roof Mounted
If you choose the roof mounted option, your solar panels will be installed parallel to your roof. Whether you have an asphalt roof with shingles or a standing seam or metal roof, this installation choice will work well. PV QuickMounts are used for the installation to ensure that the solar panels are secure and your roof stays intact.
4.     Flat roof
If you need solar panels for a commercial building, you can most likely choose the flat roof option. While some installation methods require roof penetrations, you can request that Yellow Lite use a ballasted system to maintain the original state of your roof.
Solar Panel Modules
There are also several photovoltaic modules that are used for the installation of your solar panels. A Yellow Lite Installation Professional can help you understand the modules, and there are three main types to choose from. They are:
1.     Crystalline Silicon
These are poly and mono crystalline modules that are between 14 and 18 percent in efficiency. These modules come with warranties that are between 10 and 20 years. The majority of the industry standard modules usually are made from crystalline silicon.
2.     Thin Film
Thin film modules have lower energy conversations and efficiency than modules that are made from crystalline silicon. Even though there has been a lot of research on thin film modules, they haven't quite reached the levels of technology that crystalline silicon has achieved.
3.     Premium
SunPower is the company that manufactures premium solar panel modules, and the modules have more than 21% efficiency. They are also the most durable of the solar PV modules. SunPower modules have a lifetime production that is often twice as much as similar products. The products are made from quality materials, and SunPower is so confident in these modules that they come with Product and Power Performance Warranties that are both 25 years.
Schedule an Initial Consultation
A Yellow Lite professional will come to your home and/or business to evaluate the structure. You can also receive a quote over the phone or online. You'll need to be familiar with the way that you've been using electricity in your home, as well as the structure of the roof and where the roof is in relation to the sun. A Yellow Lite consultation usually takes around two hours, since we want to make sure that you understand all the work that will be done, and how the construction can benefit you. During the evaluation, you should feel free to ask questions about how much the entire process will cost. The Yellow Lite Installation Professional will also tell you everything about the technical and structural aspects of the solar panel installation, so you'll be fully prepared.
Yellow Lite Proposal
After you've met with an Installation Specialist, you'll receive a proposal. A team member will deliver your proposal to you in person, or you can receive it via email. The proposal will include all the details about the solar panel design, and you'll get specific information about how the panels will be installed on your commercial or residential building. The proposal also includes an estimation of how much electricity you will use once your panels are installed, and how much your electric bill will be on a regular basis. Tax credit amounts are included in the proposal as well. This gives you a reliable way to see how much you'd be saving on electricity once you have the panels installed.
Contract Confirmation and Installation
If you're satisfied with everything you see in the proposal, you can sign the contract, and a Yellow Lite Installation Professional can get started on your solar panel installation right away. You don't have to worry about inspection, utility interconnection or collecting a rebate for green energy--Yellow Lite takes care of all of that for you.
The time it takes for your panels to be installed depend on a number of factors. The size of your home or business determines installation time, of course, but the level of complexity involved with installation can also affect the time it takes for the work to be completed. In most cases, you should expect for your panels to be installed in three or four business days.
Yellow Lite Inspections
Inspections from Yellow Lite are one of the main reasons why you should look no further when learning where to buy solar panels for your home Cleveland Ohio. Installation Professionals take care of the entire inspection, so you don't even have to be present. Your current utility company and the governing municipality will perform the inspection. Your solar roofing system will be completely ready to function once the inspection is complete.
During the entire solar panel selection and installation process, Yellow Lite Installation Experts are available to answer all of your questions, whether you need to know which manufacturers the company works with, or have concerns about how the panels will function in the long run. You can also refer to the website to see how the solar panels look, so you can choose the products that will make your home or business more energy-efficient without compromising your sense of style.