What Do You Need To Know About Your Roof Before You Go Solar?
Most residential solar installations are roof mounted. So what do you need to know before you put solar on your roof? From the time of a pre-screened phone call, a solar installation company will ask you the following questions:
Are there any problems with leakage?
Are the panels discolored?
Are there any shingles missing or damaged just from visual inspection?
When was the last time your roof was inspected?
When was your roof installed or repaired?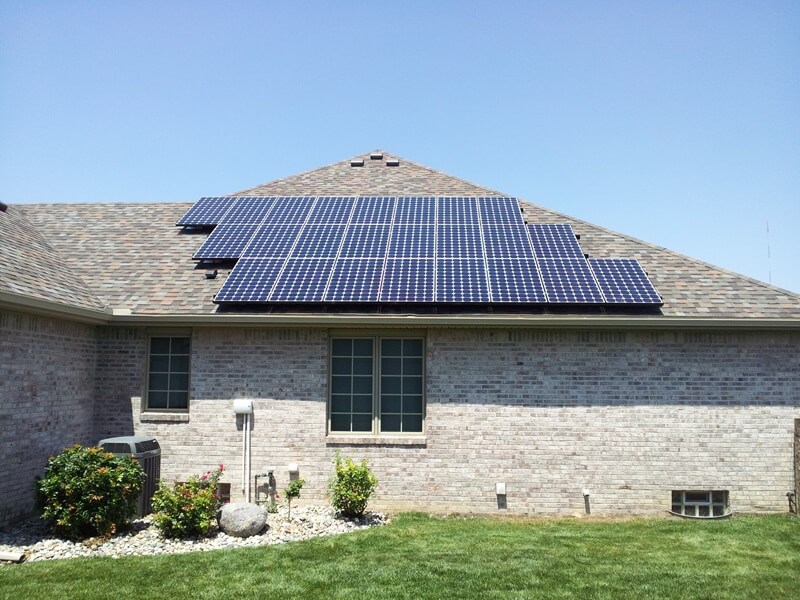 Most people put off an inspection or repairs until something goes wrong. If you do this, you are costing yourself money and a lot of hassle. It's just better to solve the problem as soon as you can to ease your mind and the strain on your wallet.
It's important for your roof to be in good condition before you install solar panels for two major reasons:
Solar panels are generally 5' by 3.5' and weigh 40 pounds. This is additional weight on your roof. A roof in good condition will easily accommodate the extra weight with no problem, but if there are weaknesses in your roof, they should be fixed prior to going solar to stave off any problems. For older roofs, this might mean additional support to the roof structure in the attic.
Solar panels installed on roofing shingles that are prone to leakage will cost money to get the installer to come out, take the panels off, allow the roof to be fixed, and to put the panels back on. It's better to deal with the problem now, before the panels are put on the roof for the first time.
What Process do we use for inspection?
We will review the age of the roof, the previous repairs that have been done, and what your zoning and building repair codes require. We will give an inspection of the roof at the time of the first site evaluation. A lot of times, the customer will just come out and tell our solar consultants that the roof leaks. Otherwise, our solar consultants can conduct a surface inspection.
We can look for discoloration and contamination. This is done by simply observing the appearance of the shingles. Any discoloration or "dirty" look could mean your roof has vegetation, fungus, mold, or algae growth, or that the shingles' protective granules have been lost. They can be a sign of near future issues. Then we look for curls, warping, cracking, buckling, blistering, dislocation, and missing shingles. These are signs of advanced wear and deterioration.
What we then do is pay for a structural engineer to come out and look at the roof, the rafters, and everything involved with a structural analysis to see if the customer's roof can support solar. This structural engineer is not charged to the customer.
The roof's age can help determine how the roofing materials are holding up and whether they are likely to continue to hold up in the future. A lot of times we will be able to give you a range as to how many more years of useful life is left in the roof. Sometimes we will advise you to get partial repairs done, especially if you have another ten years or more of useful life.
What type of shingles do most homes have?
The top four most common roofing materials in the United States are:
Asphalt – Asphalt shingles are the most popular type in the country as they are durable and among the least expensive materials that can be used. Some asphalt shingles have an additional layer of sealing material on the underside so they adhere to the layer beneath and help protect against wind uplift. They are characterized by a grey or black color.  It is said that, "the most commonly used asphalt shingle today is referred to as an architectural or laminated shingle. These are typically a strip shingle with no grooves but with a buildup layered surface to create the appearance of a dimensional product." This means that the layers are bonded together to prevent shadowlines from forming.
Cedar Shakes – This is a wood-based shingle that has a reddish, almost decorative color. One of, "…the best properties of real cedar shakes is that cedar is naturally resistant to rot and decay." They are difficult to install and take more time so they generally cost more than asphalt.
Metal Roofing – Metal roofing shingles come in preformed patterns that can be built to resemble asphalt, cedar or clay tiles, but they do not have the same weight. They are lighter and easier to handle. Another advantage is that, "…metal roofing systems are designed to shed rather than to resist water and are therefore used in steep slope applications." This shedding on top as well as being designed to prevent water from getting underneath makes them perfect for roofs with steep slopes.
Clay Tile – These are very popular in dry, hot climates such as the American Southwest. They are regarded as the most durable tile material. They also reflect the heat from the sun and are great at keeping a house cool. They are also among the most expensive tiles you can get.
Other types of roofing material include:
Slate: Beautiful yet time intensive to install. It is usually put onto roofs with steep slopes and can change color based on exposure to the weather. So even though it is expensive, it is best to get quality slate and not skimp on the price.
Tile: More expensive than asphalt, less expensive than slate. It is heavy and will probably require reinforcing of the roof.
What if your roof has another ten years of useful life? What does that mean for solar?
If your roof has another ten years of life to it, the question that people have is whether or not they can take the solar panels off, get their roof fixed, and put their panels on the new roof. The answer is a resounding yes! The solar industry is still in its infancy and is only ten years old so we have not encountered this scenario often. Eventually it will come up.
Solar panels generally have a manufacturer warranty of 10 years and a performance warranty of 25 years. Most roofing warranties will last anywhere from 20-50 years. This obviously depends on the installer.
A new roof will cost between $5,000 to $25,000 depending on the building materials used and the size of the roof. The average for one study was around $11,000. If you are going to go solar and you need a new roof, it is best to combine the two and do them both together. One of the major determinants of roof shingle wear and tear is the sun. So adding solar panels to your house will actually extend the lifespan of your roofing tiles while you generate electricity. So no matter if you choose to go with the best solar panels, the most efficient solar panels, solar panels for sale, or simply cheap solar panels, solar panels for your home are a great deal.