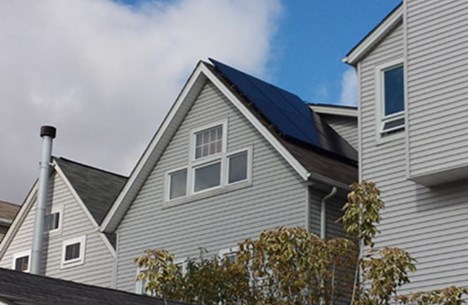 Believe It, or Not! It costs less to go solar in New York than it does in Arizona.
No doubt, there are several states, primarily in the southern and western United States that get considerably more sunshine than does western upstate New York.  Unfortunately for the residents in many of those states partisan politics has fought hard to minimize the incentives their states provide for investing in alternatives like solar in favor of maintaining the status quo of power control by the coal and natural gas industries.  So, while there is more sunshine in places like Arizona and there are large numbers of the population who are ready and willing to join the move to clean energy, many are hindered by the still significant up-front financial investment required to go solar.  
Indeed, thanks to subsidies enjoyed by the powers that be within the previously mentioned status quo and the fact that there is currently little to no accountability for the environmental or health consequences involved with energy production, it is still cheaper for consumers, even in many of those sun-rich states, to use fossil fuels to power their energy needs. For many, despite how much sun their area gets, the unequal distribution of subsidies and favoritism toward fossil fuel energy sources makes the decision to go solar, more of a financial one than one of true preference.  
This is not the case in New York.  Those who live in western New York have access to some of the best incentives for going solar in the country thanks to the New York State Energy Research and Development Authority (NYSERDA), NY state personal tax credits, U.S. Investment Tax Credits (ITC) and to local property and sales tax exemptions. It may not be as sunny in western New York as in the south and west but according to the National Renewal Energy Laboratory analysis there is more than enough solar falling on the western New York region to power all its electricity requirements.  
The U.S. ITC covers up to 30 percent of the cost for installing a PV solar system and is available to all eligible American home and commercial business property owners, through 2016.  Additionally, there are several states that offer a state tax credit.  Both New York and Arizona are among those states. However, New York offers a maximum tax credit of $5,000 while Arizona's maximum is only $1,000.  When considering the tax credits alone, a New York consumer's investment in a 5 kW solar PV system is about $8,100. In Arizona, the same system costs $11,600.  
It doesn't stop there though; New York's leadership team has helped create a vision and has had foresight enough to understand the importance of building a sustainable clean energy industry. They are accomplishing this by proactively motivating its citizens to opt-in to a safer, cleaner and more reliable energy future.  
The NY-Sun is a rebate program launched by Governor Andrew Cuomo in 2012 as part of New York's commitment to protect the environment and lower energy costs for all New Yorkers.   In April 2014, New York increased its commitment to expand the deployment of solar throughout the state and to transform New York's solar industry to a sustainable and soon-to-be subsidy-free and self-sufficient industry to almost $1 Billion.  Thanks to NY-Sun, NYSERDA is currently offering upstate New Yorkers an additional rebate of 90 cents per watt, upfront.  Arizona's biggest utility, APS, is offering zero.  
In our 5 kW PV solar system cost comparison; NYSERDA provides New Yorkers with an additional rebate incentive of $4,500 (5,000 watts x $.90 per watt = $4,500); APS customers get zilch, (5,000 watts X zero = zilch). The bottom line is that concerned citizens in Jamestown, New York who decide to take responsibility for their part in providing a healthier future for their families and friends by going solar will have a final investment of only $3,600 for that 5 KW PV solar system. Citizens in Phoenix that have the same values will have to pay almost $12,000. 
That $8,000 savings for New Yorkers makes up for a lot of sunshine. Believe It!
So if you plan on buying the best solar panels, cheap solar panels, the most efficient solar panels, even sunpower solar panels for your home solar system, know that solar panels cost less than ever. Solar panels in Ohio, solar panels Columbus Ohio, solar panels Cincinnati Ohio, even solar panels Ontario, even solar panels for your home, your solar panel roof is ready to be installed. Check out our solar panel calculator, even if you want to purchase cheap solar panels in Ohio. YellowLite solar a solar installation company in Ohio as a solar installer Ohio.Want to learn more about solar energy? Contact YellowLite today.