Thank You From YellowLite To The Kellers For A Great Solar Party
On Saturday, 8/13 Gary and Terry Keller hosted a solar party in Tiro, Ohio celebrating their brand new solar energy system. The Kellers installed their 8.96 kW array in late May. They were thrilled when they received their first electricity bill for only $5.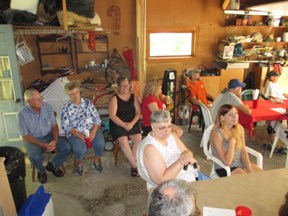 The Kellers invited their friends, family, and neighbors to come celebrate the event. YellowLite's communications manager, Ryan, gave a 10 minute presentation before taking questions for 15 minutes before lunch was served. The questions ranged from whether there was enough sun in Ohio to make solar work, the cost of a system, the expected payback period, the financing options available, how panels produce electricity, and what the average system size is.
The Kellers were gracious hosts and enjoyed learning more about their solar energy system and sharing the experience with their loved ones. They especially appreciated the official YellowLite solar party cake that we bring to all our solar parties. The cake is chocolate, with a personalized note, and a frosting drawing of a house with solar panels.
To help commission your solar energy system and celebrate the special occasion with friends, family, and neighbors, YellowLite is proud to announce our sponsorship of your solar party. You supply the venue and we'll bring a cake, a gift bag, and some party favors. We will also remind you that for every solar energy system sale that you help refer, you'll earn a $250 referral bonus!
We can pick a day around the time your installation goes live and send a representative to give a short presentation, take questions, explain how solar works, your benefits, and why it is so important. A big purchase like this is cause to rejoice!
Thanks from the team at YellowLite!