How Health Safety is Improving the Environment
Slowing Down Activity
As countries across the world are working to slow the spread of Covid-19, government orders for health safety are changing our individual habits as well as our collective impact on the planet. Areas under official lockdowns and stay-at-home orders have minimized physical contact and typical operations. With the temporary closures of various operations, we're seeing a decrease in the processes that most heavily contribute to fossil fuel emissions. It seems that prioritizing human health and safety is benefiting the environment. 
Seeing the Remedy in Action
Large developed countries like the U.S. and China are the biggest contributors to pollution and climate change. Widespread shut-downs have reduced energy production and transportation, causing decreases in air pollution. NASA and the European Space Agency recently released satellite images reflecting the drop in China's air pollution since cautious measures against the spread of Covid-19 have been enacted. Both the U.S and China have seen a dramatic decrease of nitrogen dioxide and carbon dioxide as a result of safety practices including social distancing.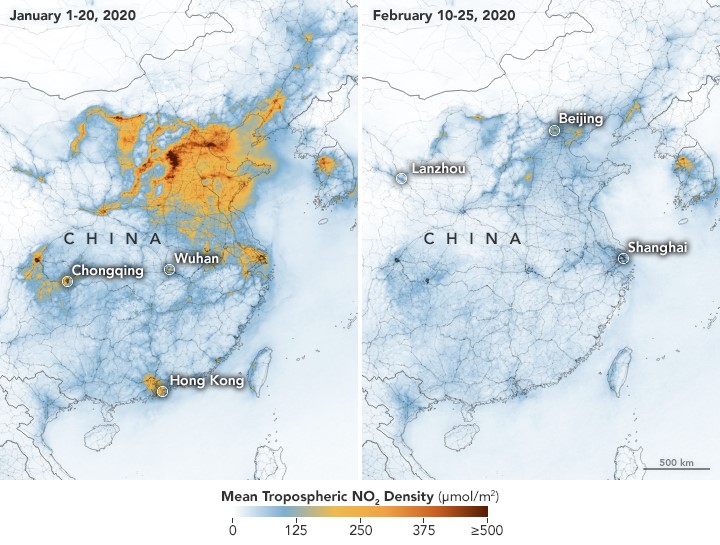 Image Source: NASA Earth Observatory
Air pollution poses a threat to the environment and to human health. Whether the air hangs heavy with smog or fills with invisible gases, these pollutants can cause various health issues including decreased lung function. Since Covid-19 has proven more dangerous for those with compromised respiratory systems, this unexpected improvement in air quality could help to prevent more serious complications for those who might contract the virus in the future. However, if the world reverts back to continuously polluting the air, we may have to face more consequences. 
Keeping the World Healthy
Communities around the world can see the immediate benefits of limiting our unnecessary consumption. Reducing our fossil fuel emissions by cutting out traditional energy production, constant transportation, and excessive demands, would preserve the environment and improve human health. The coronavirus pandemic has undoubtedly put a strain on the global community, but it's also proven how drastically our behaviors can impact the planet. Let's use this experience to develop practical solutions for the future.