On the heels of the newest climate agreement struck in a meeting of the Conference of the Parties (COP21) in Paris, France, the usual debate continues. Not only are there unsatisfied parties on either side of the challenge, but it is likely that many months are needed to clarify the details and get a clear picture of the agreement's impact, especially on the energy front.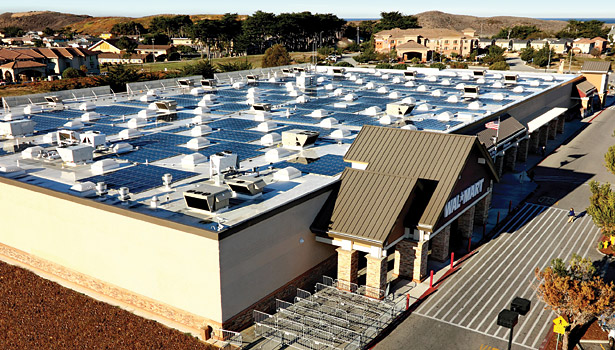 But we think there is good news for Ohio and the Midwest independent of this latest agreement. Even if the debate continues and parties pro or con push for more or less, recent history proves that the corporate world and homeowners alike don't need a formal agreement to see the value in shifting to renewable energy sources. We have already offered a lot of information about timing and value for the homeowner. We take a look at the corporate world, because vibrant commercial support for solar helps everyone.
Close to Home Companies Commit
The advocacy Ohio Advanced Energy Economy recently held a symposium where a number of global companies with local ties participated. Participants heard talks on both technology and policy, with a focus on the future. The meeting isn't what is most interesting, we think. Two key companies present and their past and future commitments encourage us that the solar momentum is real and growing. Procter & Gamble and Kroger are two Ohio based companies with national and multi-national operations. Both have significant corporate sustainability programs and admit they have focused on the easiest projects to bring the quickest success. Now that they can prove compelling bottom line impact from this "low hanging fruit," the company attention moves forward to new projects.
Procter & Gamble, Co.
Procter & Gamble (P&G) has been targeting and reporting on its sustainability goals for over a decade. So it is no surprise when they announce new efforts to address their carbon footprint through energy measures. The manufacturing giant firm recently announced an ambitious goal to reduce its absolute greenhouse gases emissions by 30% in 2020 with 2010 as baseline. They are on record with this committment, adding that it will happen even if the business will grow by many tens of billions of dollars.
P&G was among the first companies to focus on energy efficiency and conservation, saving as much as US$350 million over the past five years. But now that the low-hanging fruit has been picked, the company admits it gets harder and harder to reduce emissions just based on conservation. The next step-change comes from switching from fossil fuels to renewable energy. According to Len Sauers, the global head of the company's sustainability effort, their future goals are 100% renewable energy and a 30% reduction in carbon emissions from their 2010 baseline.
This is not a new shift to a renewable energy future, however it will possibly be a drastic increase in activity. As far back as 2009, the company began experimenting with the value and bottom line impact of solar energy systems.
Procter & Gamble is investing heavily in other renewable energy. Last March, the company announced the development of an up to 50-megawatt biomass plant in Albany, Georgia, that will help run one of its largest manufacturing facilities in the US. The plant will provide 100% of the steam, and up to 60-70% of the total energy used by the company's facility nearby. The facility makes tissue products, an energy-intensive process. The plant's fuel supply will come from biomass that would otherwise have been left to decay, burned, or potentially sent to landfill. It includes discarded tree tops, limbs, branches and scrap wood from local forestry operations, crop residuals, such as pecan shells and peanut hulls, and mill waste, such as sawdust.
The company has also taken advantage of one facility located in wind rich Texas. Projects this size are usually ventures where P&G contracts to buy the power from the site, even if more than the local facility needs.
The Kroger Co.
The retail grocery business requires a tremendous about of refrigeration and transportation of products. Clearly, energy efficiency was a logical and very productive first goal. Through Energy Star program compliance and other energy management projects, the chain has continued to grow the business without growing their carbon footprint. Renewable energy has been a factor as far back as 2011, beginning with a solar energy facility in sunny New Mexico.
The company began converting food wastes into a clean energy production system, using anaerobic digestion to produce the sustainable fuel. Such a system delivers dual savings where reduced truck hauling is reduced by over 500,000 miles per year. Beyond cost savings, this is a tremendous amount of transportation fuel savings as well.
As recently as 2014 a facility in Utah was solarized with a large, 1MW solar energy system. Over 25% of the location's electricity needs will be met. Verified energy costs savings will be returned to the company's customers.
We expect each company to look at their properties to find the best fits to meet both their sustainability and financial goals. As the big box properties continue to solarize, don't be surprised to see smaller corporate facilities go solar as well.
More Than Local Companies
Beyond companies that participated in the symposium, we think other national organizations operating in Ohio are just as outstanding. Two examples, WalMart and Campbell's Soup have committed to their renewable and sustainable futures by upgrading their Ohio facilities, too.
WalMart Corp.
WalMart is not only the corporate solar energy capacity leader, but they also have an ambitious future goal to be supplied 100% by renewable energy. Not only has the company invested nationwide, but in Ohio there are around a dozen WalMart and Sam's facilities benefiting from solar energy.
Campbell's Soup
Campbell's Soup is not unlike Kroger in their energy demands and product offerings. Offsetting dense energy needs and reducing organic wastes are key corporate targets. And the company is very proud of their Napoleon, Ohio, facility. Beyond the pride in winning awards, the energy savings are nice, too. Between the 9.8 MW solar energy system and the 2.8 MW biodigester, the plan was to offset nearly a third of the site's electricity use. But engineers believe now they are closer to 40%!
Commercial and Residential Solar Energy Synergy
Even at the most basic level, commercial solar energy systems benefit more than their corporate owners. The local impact can be measured by the reduction of demand to the grid and network. Nationwide, corporate financial savings can positively impact consumer costs. Each large commercial project equates to tens, hundreds, and in some cases thousands of homes worth of capacity. Keeping the solar pipeline active helps everyone. Prices come down. More neighbors and community members are employed. And technology is more easily validated.
And on the larger scale, corporate sustainable activities deliver societal benefits. It's for these reasons we like to highlight companies that we think deserve recognition and a call out.
Interested in learning more about YellowLite's renewable energy solutions? Reach out to us today to learn more.