Columbus resident Christopher Taylor is delighted with his 10.7 kW solar power system. Taylor installed forty-two Canadian Solar CS6P model 260 watt poly-crystalline panels to go along with his SMA Sunny Boy String Inverter. His panel efficiency is 16% while his inverter efficiency is 97%.
"It's been a very sunny summer so far and we're getting a lot of efficiency out of our system," said Christopher. "I think I looked up our payback rate and it was within ten years."
Taylor's system is forecasted to produce more than 14,000 kWh of electricity per year and will offset his electricity bill by more than 90%. This is also enough to offset the burning of seven tons of coal per year. At a state average of $0.12 per kWh, Taylor is probably saving around $1,700 a year on his electricity bills. The combination of the environmental offset and the electricity bill savings appealed to the Taylors.
"We moved to a new home and our electricity use was pretty heavy and we thought it would be great to save long-term while being environmentally friendly. One of our goals was to work on sustainability. We garden, we recycle, compost, we try to conserve electricity when we can by turning lights off in rooms we're not in. So the fact that solar is good for the environment was really something that we liked."
Taylor contacted YellowLite in July of 2015 and his system was installed in August. Taylor did not receive any additional quotes from any other solar energy companies. "I found it hard to find solar providers in the area," said Taylor. "I saw an article in the Columbus Dispatch about an installation you guys did. That was how I found the company."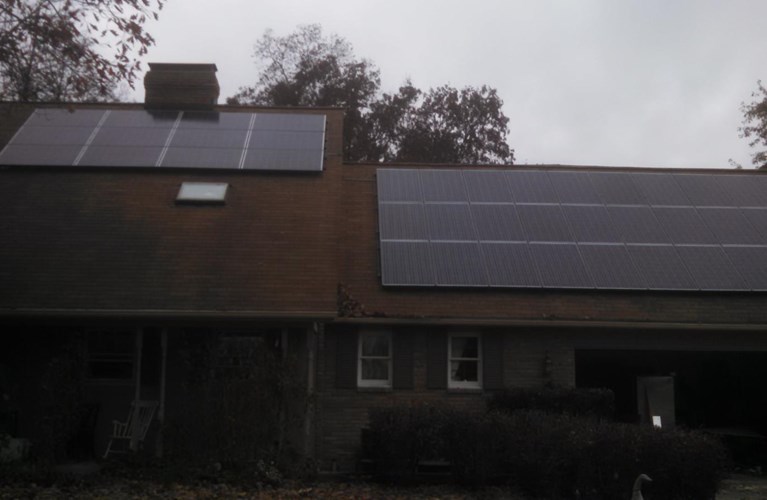 Taylor was happy with his installation and found the process easy. "Our salesman, Cody, was really helpful. He bounced ideas around and answered all of my questions."
The equity that has been added to the Taylor household is approximately $30,000. It should be noted that the added equity value to your property from going solar is based on a rate of $3.11 a watt from the latest research, but it is always a good idea to contact your realtor.