By Mattie DeDoes
While a great deal of the general public's attention on climate change focuses on gas-guzzling cars and smoke-bellowing factories, energy use by the nation's buildings is an issue that can be often overlooked. A more efficient building may not be as flashy or as exciting as the latest electric car, but it can contribute greatly to the goals of environmental sustainability.
Buildings account for the highest percentage of the United States' primary energy consumption, more than either the transportation or industrial sectors. According to the U.S. Department of Energy Data Book, buildings used 40% of the total energy consumed in the U.S, compared to about 30% for the other two sectors. Buildings also generated 38% of the U.S. CO2 emissions and used 15% of potable (clean) water. These statistics indicate that making improvements in green building would have a tremendous impact on our climate footprint.
Many different organizations and standards exist for evaluating the environmental impact of buildings. One of the most widely recognized of these organizations is the U.S. Green Building Council. The council certifies qualifying buildings with its LEED (Leadership in Energy & Environmental Design) standards. The LEED certification program assigns a points system for more efficient building practices, using a weighted calculation of environmental impacts. These strategies address the following:
The basic functionality of the building (heating/cooling, water use),
The appliances used in the building,
The materials used in construction,
The location (redeveloping previously used land or locating near mass transit options).

A more detailed look at the LEED credit system can be found on the USGBC website.
More and more new construction and renovations projects are designed to achieve LEED certification and other standards of operation. Take a look at a few notable projects around Cleveland.
Cleveland Environmental Center
In 2003, the Cleveland Environmental Center (CEC) opened up on Lorain Avenue in an old bank building that was renovated. This was a significant development in the Ohio City neighborhood. The CEC is home to Environmental Health Watch, the Northeast Ohio Chapter of the USGBC, the Cleveland Engineering Society, and a Fifth Third Bank branch.
This site was chosen for its proximity to multiple public transportation options, including train stations and bus stops. By making the building easily accessible via mass transit, developers hoped to reduce transportation-related CO2 emissions from commuting. The original shell of the building remains, as well as over half of the original interior. This tangibly illustrates a motto of the USGBC that states "the greenest building is the one already built." In addition to maintaining the structure, 75% of the demolition waste was reused for new construction in the redesign.
Inside, many eco-friendly measures were taken in updating the building's operation. The building contains bamboo flooring, argon-filled windows for better insulation, and non-VOC (volatile organic compound) paints. A geothermal heating system stabilizes interior temperature, while motion-sensor faucets, waterless urinals, and low-flow toilets save approximately 140,000 gallons of water per year. On the roof, there are 96 solar panels accounting for 5% of the building's energy use, as well as vegetation and reflective paneling to reduce heat generation to the surrounding area. Overall, the CEC consumes 1/3 of the energy that an average building of the same size uses.
Visit the Environmental Health Watch website to find out even more innovative measures taken in construction of this building!
PNC Smarthome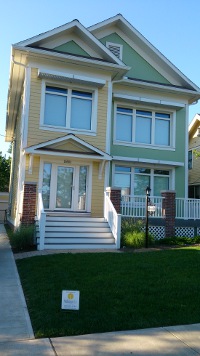 The PNC Smarthome (left), was originally an exhibit at the Cleveland Museum of Natural History. This building was purchased by a Cleveland couple and relocated nearby to Wade Park Ave. in University Circle in 2011. The Smarthome was the first Ohio building to be certified by the Passive House Institute, a standard which uses heat recovery ventilation systems and exceptional levels of air-tightness to reduce the energy usage of a home.
The Smarthome is about 90% more energy-efficient than a standard home. There are a few main features included in the Smarthome which distinguish this type of "passive house" design from a typical house. A well-sealed building envelope minimizes air leakage while maintaining air quality. Large amounts of insulation are packed within walls that can be over a foot thick.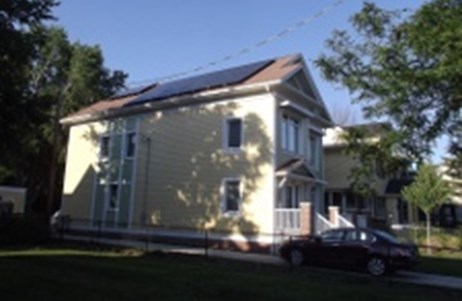 High-performance windows consisting of multiple panes with heat-resistant gas between them reduce heat transfer. These features, common to any "passive house", seek to reduce energy use, mainly by minimizing the heat transfer between the building and its surrounding environment. In addition to the air quality regulation measures, their is rooftop solar was installed by YellowLite (see photo at right).
In addition to the noteworthy work on the CEC and the Smarthome, many other regional projects have achieved outstanding levels of energy efficiency:
The Collinwood Recreation Center earned the aforementioned LEED Gold Certification, opening its doors in 2011 complete with solar thermal heating and top-notch stormwater management systems.
Cogswell Hall, a low-income home for adults with disabilities, boasts LEED Silver credentials with its individualized thermostat controls and an energy reduction education program for its residents.
Additional initiatives are propelling the Cleveland area toward green construction and overall sustainability. Many non-profit organizations dedicated to energy efficiency have arisen due to the SustainableCleveland2019 initiative, a city government program committed to incentives and support for environmental issues. Increased awareness and drastic improvements in the energy efficiency of structures and buildings is critical for the region; implementing proven strategies and practices will continue to make an enormous impact in our continuing quest to conserve.
Keep an eye out for exciting new developments around the Northeast Ohio area, and as always, stay tuned to YellowLite for any solar information and installation needs!
Sources critical to this article are hyperlinked within the text.  However, they are cited here as well:
Department of Energy Data Book 
U.S. Green Building Council
Environmental Health Watch
In addition, the following article was useful in researching the PNC Smarthome:
So if you plan on buying the best solar panels, cheap solar panels, the most efficient solar panels, even sunpower solar panels for your home solar system, know that solar panels cost less than ever. Solar panels in Ohio, solar panels Columbus Ohio, solar panels Cincinnati Ohio, even solar panels Ontario, even solar panels for your home, your solar panel roof is ready to be installed. Check out our solar panel calculator, even if you want to purchase cheap solar panels in Ohio. YellowLite solar a solar installation company in Ohio as a solar installer Ohio.
Recommended Reading: