As the United States continues its shift toward environmentally-friendly sustainable practices, alternative energy sources are becoming more available to consumers looking to save money while decreasing their dependence on fossil fuels.
Solar power, the most widely accessible of all renewable energy sources, has gained immense popularity among homeowners in recent years. As a result of a booming solar industry, consumers are presented with an overwhelming number of solar installation companies to do business with.
Given the number of choices, selecting a solar company that meets your economic, environmental, and personal needs may seem like a difficult task. By simply doing a bit of homework and getting to know potential installers ahead of time, you'll be able to quickly narrow the field when shopping around.
Here are five questions you should ask solar installation companies to ensure a great fit.
How much experience does your solar installation company have?
As the solar industry continues to grow, new installers are always seeking a slice of the pie. With so many players regularly joining the market, it's important to find out how many years the company has been in business and how many solar installations they have completed.
We do not want to assume that a startup solar company is not qualified to perform installation work, but a solar company that has performed hundreds of installations has the seasoning and experience that a younger company has yet to accrue. Examples of installations along with case studies, white papers, and other forms of content can demonstrate a solar company's work performance regardless of how long it have been in business.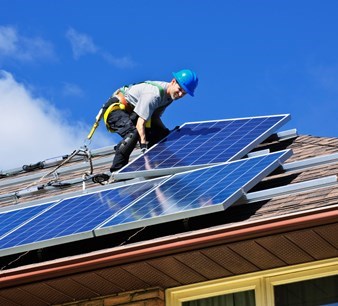 What do customers have to say about your work?
Don't hesitate to ask for customer references. Ask your potential installer to provide two or three references and then reach out to these individuals to see what they have to say about the installation experience and quality of work.
In addition, investigate the company's online presence. This includes reviews on the Better Business Bureau, Solarreviews.com, Angie's List, Yelp, and Facebook. Look for patterns and negative reviews. Does the company have a strong emphasis on customer service? Do they return phone calls promptly? Do they arrive on time and be where they are supposed to be? The answers can provide some insight on how the company treats customers and what your experience may be like.
What licenses and insurance does your company have?
In order to perform electrical work, qualified solar installers should be licensed with the states they do business in. Additionally, qualified solar installers will have staff members that are certified by the North American Board of Certified Energy Practitioners (NABCEP). This organization provides a credentialing program for solar designers, sales consultants, and installers. It is a way of setting voluntary national standards by which solar professionals with skills and experience can distinguish themselves from their competition.
Does your company offer an installation warranty?
Although the majority of solar systems require little to no maintenance and will operate problem-free for 25 or more years, you should be familiar with which repairs and replacements are (or aren't) covered under warranty. Much of the hardware used in the installation will be covered by the manufacturer. However, workmanship will be separate. Again, understand what is and what is not covered under warranty as it relates to the work completed.
Who will be completing the installation?
It's important to be aware that not every solar installation company has a full in-house team of installation technicians. To keep up with the demand, some companies hire subcontractors to complete the work. This is perfectly acceptable as long as the subcontractors are up-to-date with certifications and there is a supervisor on the job site.
You should also inquire about the quality standards for each job—especially if subcontractors are completing the work. Does the company have a process for measuring quality standards, and if so, how? Make sure the work is inspected thoroughly by the team prior to completion.
Good questions can lead to the right solar installation companies
Due diligence is an important part of preparing for a major investment such as a solar installation. By asking the right questions, you'll have a better handle on making an informed decision about your home efficiency upgrade. Choose an installer that understands your needs and concerns, that can adequately answer all of your questions and that makes you feel at ease about the installation process from start to finish.
Ready to shop? Get started by finding out how much you can save with our solar estimation calculator.